Click on our menu buttons immediately below to find MegaSquirt® information quickly:

MegaSquirt-II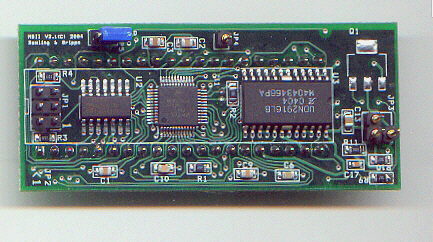 Al Grippo and Bruce Bowling have created on MegaSquirt-II, which is a plug-in daughter card which replaces the MC68HC908GP32 with a MC9S12 processor. MegaSquirt-II is basically a plug-in processor card which has the MC9S12 processor plus support hardware as well as a stepper motor chip, and an ignition module controller.
You simply remove the 68HC908GP32 processor on your existing MegaSquirt® and plug in the MegaSquirt-II daughter card and their MegaSquirt® controller is now a MegaSquirt-II® controller - it takes less than a minute to do.
MegaSquirt-II adds the following enhancements over MegaSquirt-I:
The processor is from the Motorola HCS12 family. It has plenty of excess capability and is a 16 bit machine allowing as much timing resolution as anyone can practically use. Since it is in the Motorola family the MegaSquirt® embedded code will port over quite easily, however the MegaSquirt-II code has been converted to the C programming language since there is a free GNU cross-compiler for this CPU. This will make it much easier for others to customize the algorithms to meet their needs.
The MegaSquirt-II daughter card plugs in to the existing MegaSquirt® processor socket, replacing the MegaSquirt® 68HC908 processor.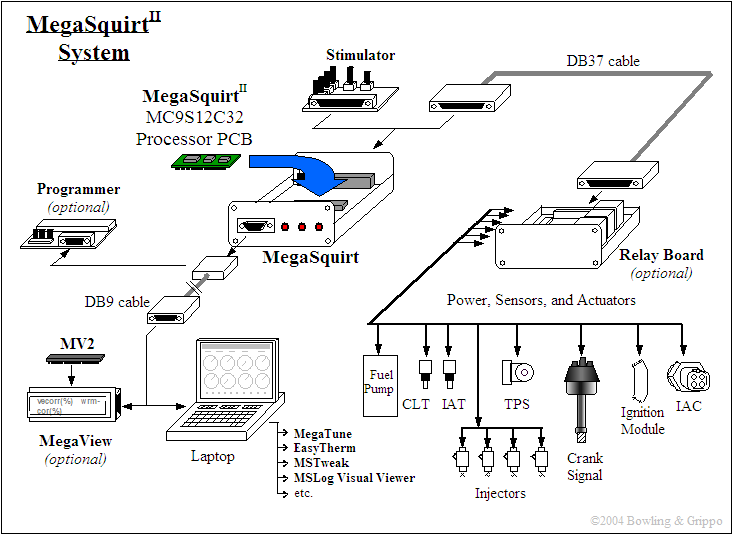 How to Buy MegaSquirt-II Hardware
The price for MegaSquirt-II is about $90 (US) in 2008.
MegaSquirt-II is an add-on option for a standard MegaSquirt® controller. To learn more about MegaSquirt® EFI Controller, go to the MegaSquirt FAQ and manual. The assembly, testing, and installation of MegaSquirt® is covered at those sites. This site deals only with the MegaSquirt-II add-in board.
The distributors listing can be found at:
MegaSquirt® Distributors List
Full installation instructions are at the MegaSquirt-II installation page.
There is also a huge amount of collective experience and knowledge related to the assembly and installation of MegaSquirt/MegaSquirt-II in various vehicles available on the MegaSquirt® Forums website.
---
---
MegaSquirt® and MicroSquirt® controllers are experimental devices intended for educational purposes.
MegaSquirt® and MicroSquirt® controllers are not for sale or use on pollution controlled vehicles. Check the laws that apply in your locality to determine if using a MegaSquirt® or MicroSquirt® controller is legal for your application.
---
MegaSquirt® is a registered trademark.
---
© 2004, 2008 Al Grippo and Bruce Bowling - All rights reserved.
---